Advanced Open Water Certification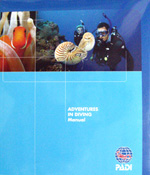 OK, now you are a certified diver. You have acquired the skills and information you need to be a safe and competent diver, but you may not feel that you have the level of comfort you want to be able to go off and start diving on your own.  In the Advanced Open Water (AOW)  Certification class you will get 5 more dives with an instructor and dive masters, where you will be introduced to Wreck diving, Deep diving, Night diving, Search & Recovery diving by searching for a lost object and have practiced advanced Underwater Navigation.
Studies have shown that divers who have 9 dives under their belt (AOW Certification) are more likely to continue diving, whereas divers with only 4 dives (Open Water Certification only) are less likely to be as active a diver.  Our PADI Advanced Open Water Diver course is designed to fit immediately after completion of your PADI Open Water Diver Course, or at any time thereafter.
Typically we conduct the AOW classes in conjunction with travel.  We want you to experience the full flavor of the AOW training, and diving on a rusty car in the bottom of a local quarry in 20 foot visibility, in freezing water, is not the same as visiting a 100+feet ship wreck in warm blue water. BUT if you can not travel, then during August & September the water is warm enough to do the deep dive her in the north east.


The Advanced Open Water (AOW) Certification is 5 more dives (Navigation, Deep, Night, Wreck and Search & Recovery) with your instructor that will introduce you 5 different types of diving. This is a hands-on class, watch a video, read a section about the dive, discuss the type of dive and then go do it!!! (NO TEST REQUIRED!)
Their are 2 ways to complete the AOW academics, conventional face to face classroom lecture or eLearning, an on-line computer based training for age 10 and older that replaces the conventional face to face classroom lecture and allows the student to log in and work on the academics any time they have time and an internet connection. eLearning will cut in half the time you need to spend with the instructor since you are completing the Academics on line, for more info on eLearning click on the following link=> eLearning . The cost of AOW eLearning can be found on-line and is paid on-line at the time your create your eLearning account, each student will have to have their own eLearning account since it will track your progress on completing the course and keep a record of your homework. If you decide eLearning is the way you would like to complete your academics portion of your scuba instruction you can Start the academics as soon as you sign up for the eLearning, then we need to schedule your 5 Open Water Training Dives ( addition fee for 5 AOW dives).


Do you want to feel more comfortable with your diving and experience 5 new types of dives?  If so, sign up for the next Advanced Open Water Certification Class and complete more pages in your log book!


The cost for Advanced Open Water Certification depend upon which way you choose to do the AOW Academics & dives (Dive Equipment, boat & quarry fees, travel, lodging, food and transportation to dive site are not included). Please contact us for the current pricing to earn your AOW Certification.
Free joomla templates
created by
Lonex
.